Chapel Times
Prayerfully consider joining Sancta Familia during your work week!
Morning Prayer: 8:00a.m.—8:10 a.m
Members of Sancta Familia Medical Apostolate and patients gather each morning in prayer.
Chapel Hours: 8:00 a.m.—5:00 p.m. Monday through Friday

Adoration: 8:00 a.m.—11:30 a.m. Last Tuesday of the month

Holy Mass: 11:30 a.m. Last Tuesday of the month
Father Matthew Gutowski
Father Matt answered the call to help found The Sancta Familia Medical Apostolate. He had actually been praying for a holistic Catholic clinic in Omaha. In fact, he recommended that Sancta Familia Medical be an Apostolate in the Archdiocese of Omaha. He has served as the spiritual director since its inception. He has not only helped in the formation of the members of the apostolate, but has helped to treat patients who have spiritual illnesses.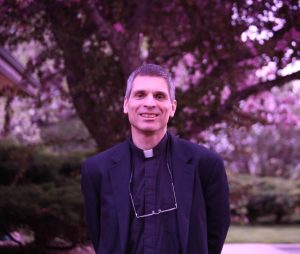 Father Marcus Knecht
Father Marcus hales from St. James Church in Omaha. He is an enthusiastic priest who has joined with Father Gutowski to help form our members in church teachings about diverse health issues and medical care delivery.